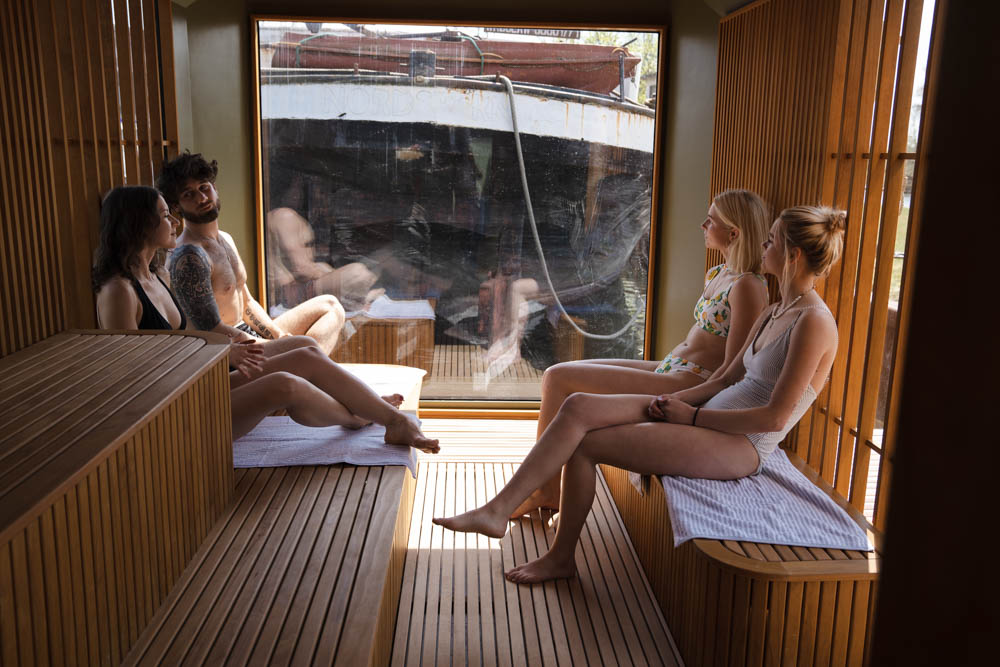 Experience the floating sauna in Berlin near Funkhaus
Get 20 % discount in March and April! Use the code SAUNA20 at checkout.
The Sauna by GoBoat concept
GoBoat has opened a new floating suana in Berlin. It's stunning – designed in Denmark. The new concept makes room for everyone – from the most experienced sauna enthusiast to beginners, who wish to enjoy the view of the nature in aesthetic surroundings. For cooling down you can jump in our private water area and use our cold water bucket. Find the sauna in Treptow Koepernik.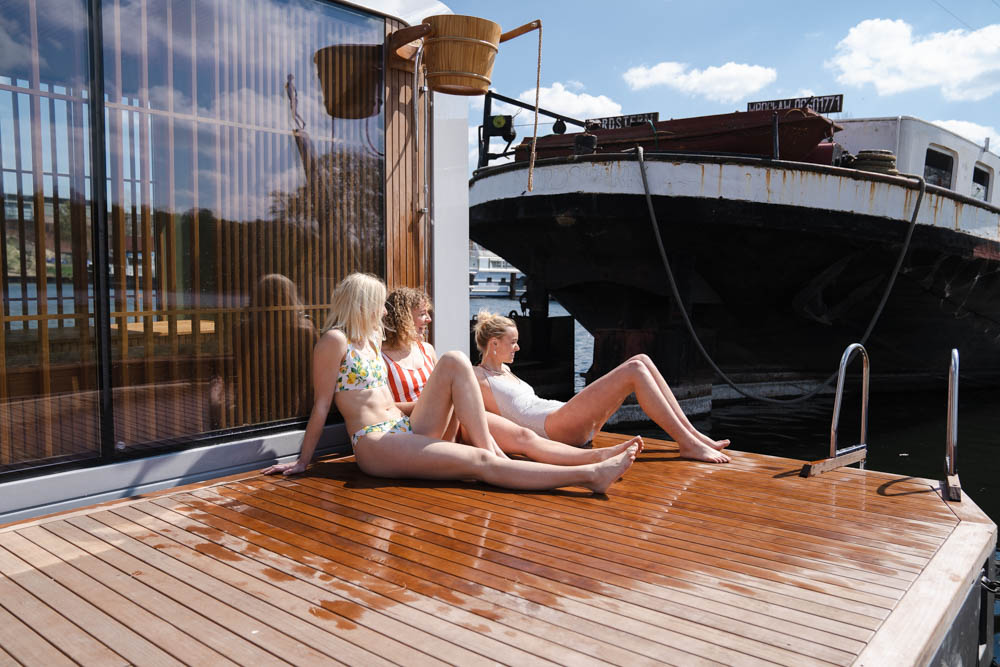 Aesthetically pleasing
Aesthetics, respect for the surroundings and environment are a core part of the Sauna by GoBoat experience. With the new floating sauna Berliners and turists can enjoy the view of the water while in one of the most beautifully designed floating saunas in the world.
The sauna was designed by Carl Rand and is Danish Design at it best.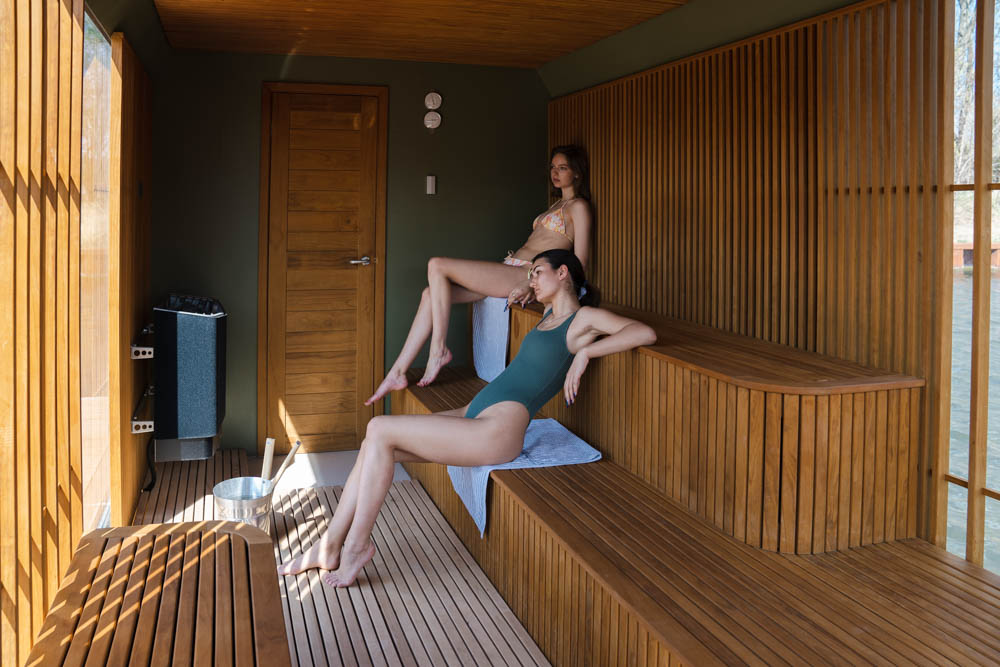 Sauna community in Treptow Koepernik
Sauna is about community, well-being and contact with nature. The sauna experience is often equal to quality time with friends and family. You will step into a breath taking space in the beautiful surroundings of Funkhaus in Treptow Koepernik.
You can book the sauna with friends or meet strangers to make new acquaintances and truly relax in aesthetic settings.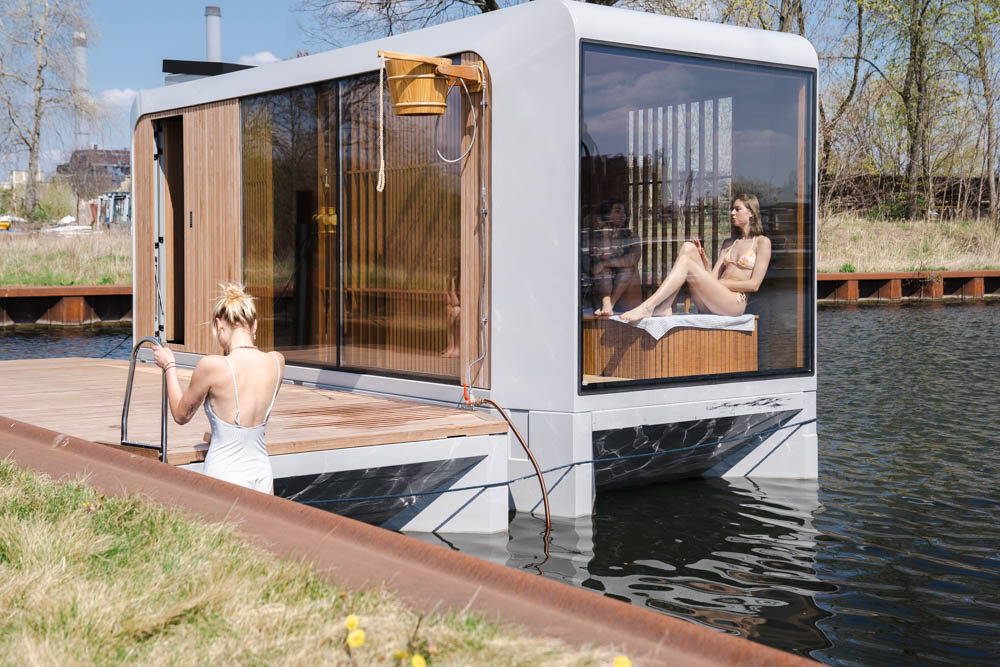 Enjoy sauna wellness
Germany is one of the most sauna loving countries in the world. Germans know that a visit to a sauna can have benefits such as relaxing the body's muscles and greater blood flow, which can lower blood pressure.
As part of the sauna experience with focus on well-being and doing something good for yourself, we have a cold water bucket to shower under and you can cool down in our .
Practical information about Sauna by GoBoat
Opening hours, booking and address
The Sauna by GoBoat pop-up location is situated next to Funkhaus, Nalepastraße 10, 12459 Berlin (Treptow Koepernik area).
The sauna experience is for those, who enjoy the heat in beautiful surroundings with friends or family. You book 1 hour at the time.
You can buy something to drink, towels and swim clothing when you book online. Opening hours are:
Monday – Fridag: 07.00 – 20.00
Saturday – Sunday: 09.00 – 20.00
If you have any questions, please ask our friendly crew at the location or email us at info@goboat.de.
Changing facilities and tips for your sauna experience
We have one sauna with room for 8 people. So please book online in advance. Of course you are always welcome to drop by and book directly on location (depending on availability).
You can change to swimming wear (no naked usage of the sauna is permitted) in our changing rooms. You can store your belongings for free (at your own risk) in our lockers with a key.
After your sauna experience, you can visit our neighboring restaurants (Milchbar and Zola), take a tour of Funkhaus (tickets required) or enjoy other parts of Treptow Koepernik.
Corona information
If you feel corona symptoms, do not go to the sauna.
If possible, take a quick test or home test before arrival.
We make sure to clean thoroughly 2 times a day.
Get 20 % discount in March and April! Use the code SAUNA20 at checkout.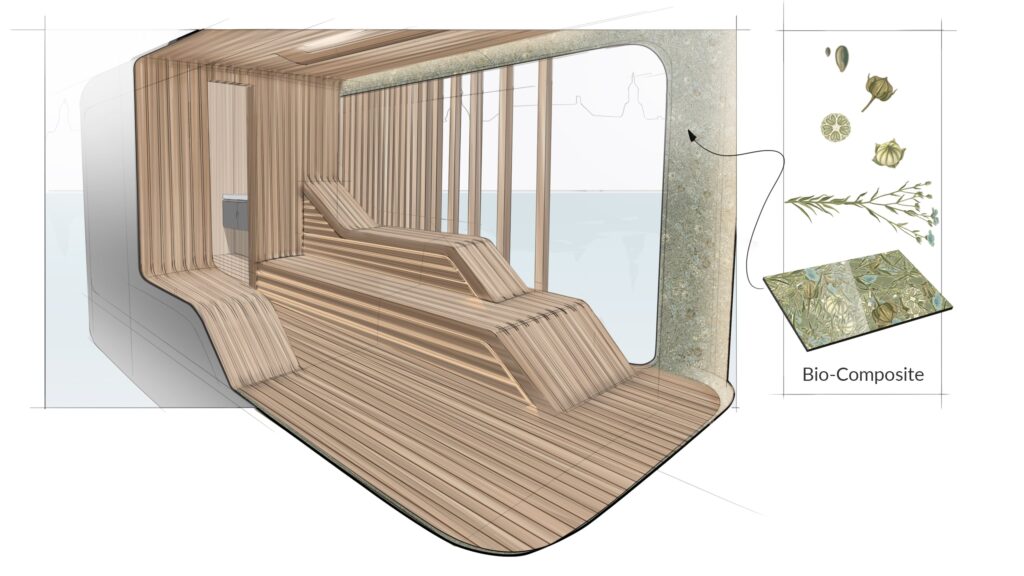 Sustainability sauna experience
Sauna by GoBoat cherishes the sustainable experience that make as few impressions on nature and the aquatic environment as possible.
Therefore, in 2014 GoBoat developed our own picnic boats, which have created new standards for sustainable experiences on the water. You can sail them all over the world. Of course you can sail in Berlin too.
The floating sauna was introduced in Copenhagen in fall 2021 and is the worlds first catamaran hull structured boat build in organic bio composite from 30% flax linen and 70% basalt. The material is highly innovative with minimal impact on the environment and has a long life. The sauna is built by GoBoat's sister company SEANICS and supported by VELUX.
Get 20 % discount in March and April! Use the code SAUNA20 at checkout.
Sauna by GoBoat in pictures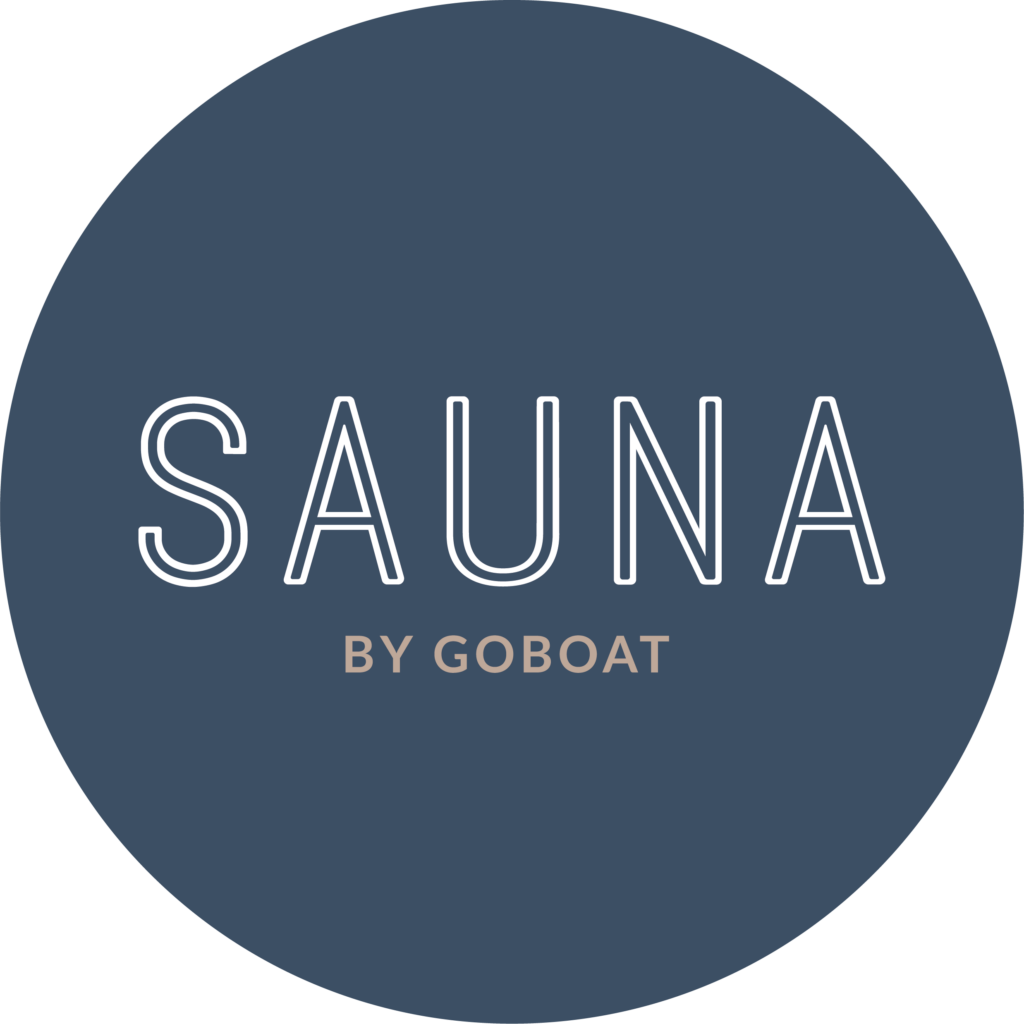 "The most beautifully designed sauna I've ever seen!"
Guest, Nick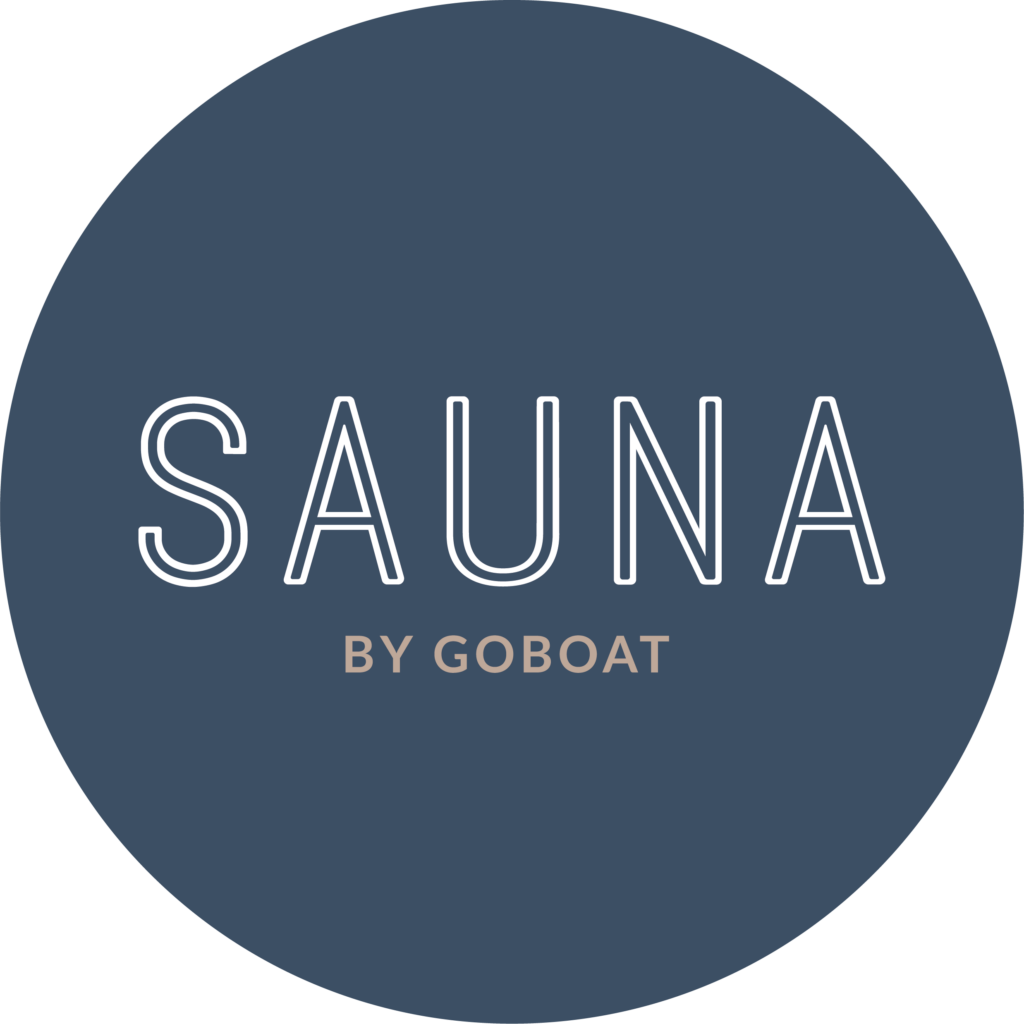 "I love the floating feeling while enjoying the heat of the sauna. Cooling down with water outside completes this sauna experience."
Guest, Susann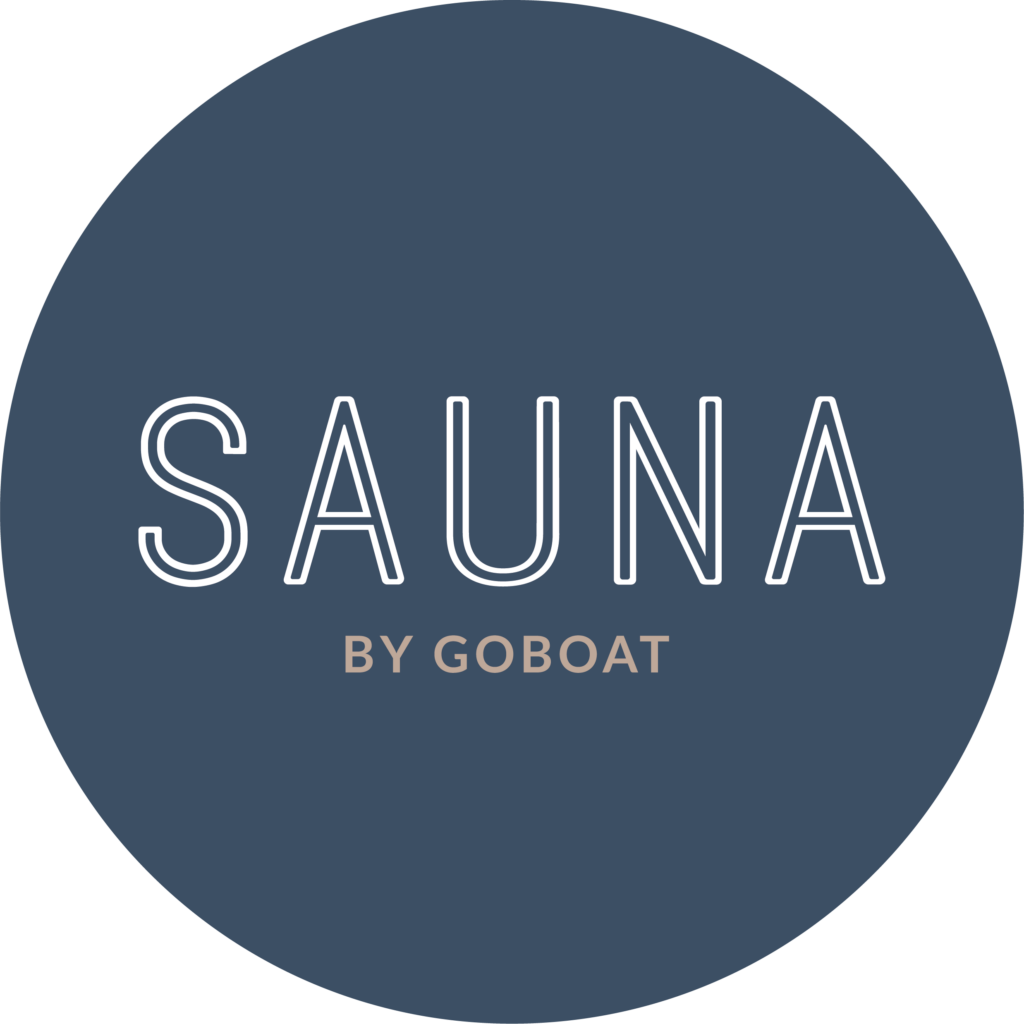 "You just feel the Danish design. It's also great for gus"
Gusmaster, Tania
Book the entire sauna in Berlin for a group
If you'd like to book the entire sauna for a private event, we are happy to help. Please fill out the form below and we'll get back to you as soon as possible